Use these products to make your Excel tasks quicker and easier.  Some of the links are affiliate links, so if you click a link and buy the product, you'll help support this blog, at no extra cost to you. Thank you!
Debra's Excel Products
Pivot Power Free Add-In
The Pivot Power Free add-in saves you time and effort, when working with Excel pivot tables. Click a button to quickly format pivot table values, or create a list of pivot table — and many more features!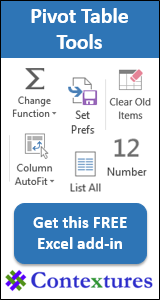 Data Entry Pop-up
For quick and easy data entry.
Excel UserForms Kit
Learn to build a UserForm that stores data on a hidden worksheet. Then, create a pivot table to show a summary of that hidden data.
Products That I Recommend
If you work with Excel charts, save time with Jon Peltier's Excel Charting Add-in
Chandoo has an Excel project management bundle that will help you get started, with a useful set of templates.
Chandoo also provides online Excel dashboard training.
____________
Save
Save
Save
Save