We're having a pivot table training giveaway, and there are only a few days left to enter – the deadline is Sunday, November 9th, 2014, at 11:59 PM (Eastern Time)
If you enter, you could win one of the 3 Xtreme Pivot Table Courses ($199 value), thanks to John Michaloudis, from My Excel Online Training. This amazing course has:
more than 200 easy-to-follow videos — beginner, intermediate and advanced level
practice workbooks
finance business cases
12 months of personal support.
work through the lessons at your own pace
track your progress.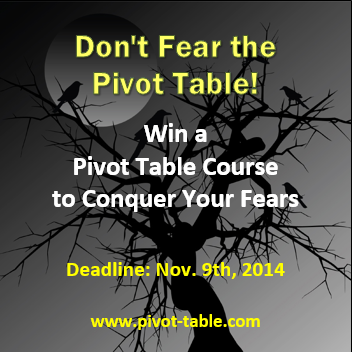 Share and Enjoy