When you set up a pivot table, the outer field names each appear once, at the top of the group. In the screen shot below, The category names are in the left column, and the products for each category are listed below the headings.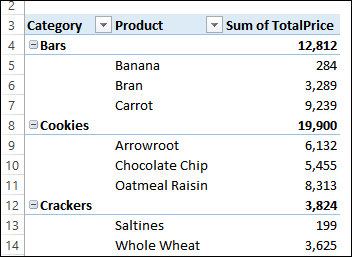 Show Repeating Labels
In Excel 2010, and later versions, you can change a pivot field setting, to show the field names in every row, instead of just once. This is useful if the the lists are long, and you can't see the headings as you scroll down. You can also do lookups from the pivot table, if the names are filled in.
Share and Enjoy