Halloween is a couple of days away, and you'll see many frightening things that night. Keep an eye out for vampires, witches, ghosts and monsters!
Something else that scares some people is a pivot table. Even though it's a beautiful thing, a pivot table can be scary if you're not sure how to handle one.
Are you afraid to get started with pivot tables?
Have you learned the basics, but aren't sure what to do next?
Do the advanced pivot table features make you wake up screaming in the night?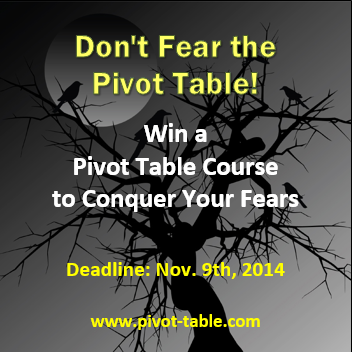 Xtreme Pivot Table Course
If you are a little (or a lot) afraid of pivot tables, there is good news! You can enter this giveaway for a chance to win an Xtreme Pivot Table Course ($199 value), thanks to John Michaloudis, from My Excel Online Training.
This course has more than 200 videos — beginner, intermediate and advanced level — along with practice workbooks, finance business cases, and 12 months of personal support.
Each short lesson is clear, and easy to follow. Work through the lessons at your own pace, and track your progress. The course is an excellent value, and packed with information.
Enter the Giveaway
John has kindly provided 3 copies of his Xtreme Pivot Table Course for this giveaway. If you'd like a chance to win this awesome training:
Fill in the "Scary Pivot Tables" online entry, in this Google Form: Pivot Table Training Giveaway Entry
Be sure to include your email address, so John or I can contact you if you win. Your contact information won't be publicly visible, and it won't be used for any other mailings.
The deadline is Sunday, November 9th, at 11:59 PM, Eastern Time.
One entry per person.
The winners will be selected as described below, and announced here on Wednesday, November 12th.
The winners will have 24 hours to claim their prize, and if not claimed, another name will be selected.
Pivot Table Training Prizes
From all the valid entries, John Michaloudis will make a random draw for the 3 grand prize winners.
2 Runner-Up Prizes – Contextures Product of Your Choice
Good luck, and remember, the entry deadline is Sunday, November 9th, at 11:59 PM, Eastern Time.
Enter now
Just fill in the survey below, to enter this awesome pivot table giveaway, or go to the full-screen version, in this Google Form: Pivot Table Training Giveaway Entry
_________________________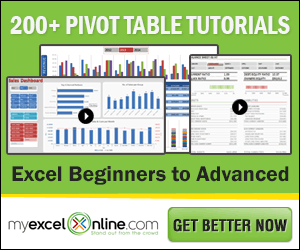 ___________________________