With a running total in a pivot table, you can see how amounts accumulate over a period of time, or through another field, such as products, or customers.
In the screen shot below, the Quantity field shows a running total across the Months column. In March, the Year To Date total for Corner Cabin is 2595.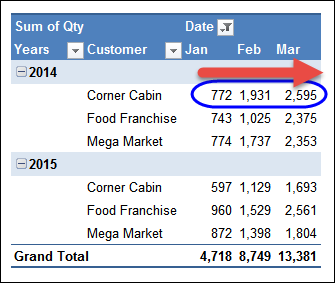 Video: Show Running Totals
Watch this video to see the steps for creating a pivot table, changing the values to show a running total, and removing the Grand Total for Rows, which is no longer needed.
Or watch on YouTube: Show Running Total in Excel Pivot Table
Download the Sample File
To follow along with the video tutorial, you can download the sample file from my Contextures website, on the Pivot Table Running Totals page.
The zipped file is in xlsx format, and does not contain macros.
_______________