Last week, I did a Pivot Table presentation, and someone asked why you get an absolute reference, if you try to link to a pivot table cell. For example, in the screen shot below, I typed an equal sign in cell E4, then clicked on cell C4, which has the quantity for the Bars category.
That created a GETPIVOTDATA formula, instead of a simple reference to cell C4.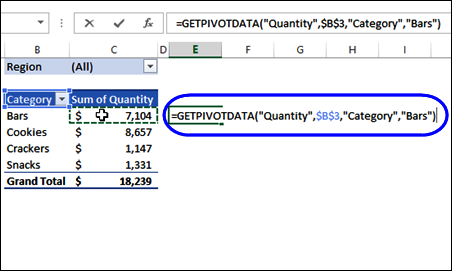 The default GETPIVOTDATA formula acts like an absolute reference – if you copy the formula down the column, it keeps referring to the same cell. In the screen shot below, the formula was created in the row with the Bars category.
When the formula is copied down to the Snacks row, it still refers to the Bars category, and does not give the result that you want in that row.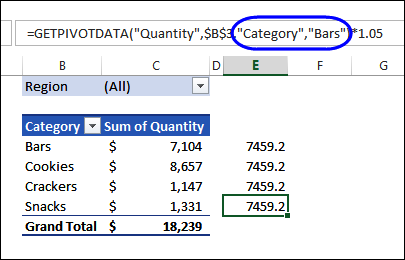 Turn Off the GETPIVOTDATA Function
The GETPIVOTDATA function is a great tool, for pulling specific data from a pivot table. It's very fast and efficient, and you can make a few changes to the default formula, to make it flexible. There are GETPIVOTDATA examples on my Contextures web site, that show some of the ways you can tweak the formula, and take advantage of its power.
However, if you just want to create simple links to values in a pivot table, you can turn off this feature.
Here are the steps:
Select any cell in a pivot table.
On the Ribbon, under PivotTable Tools, click the Options tab
NOTE: In Excel 2013, click the Analyze tab
In the PivotTable group, click the drop down arrow for Options
Click the Generate GetPivotData command, to turn the feature off or on.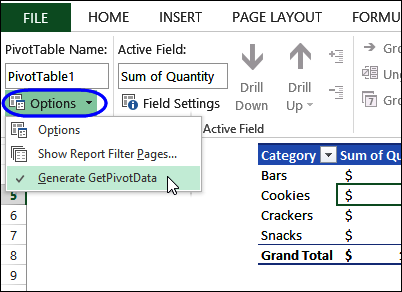 Video: Turn Off GETPIVOTDATA Functions
To see the steps for changing the Generate GetPivotData setting in Excel, please watch this short video tutorial.
NOTE: In Excel 2013, the tab name has changed to "Analyze", instead of "Options".
Or watch on YouTube: Link to PivotTable Creates GETPIVOTDATA Formula
______________