You might have to make changes to a workbook that contains a pivot table. If someone else created that workbook, you may not be sure where to find the Excel table that was used as the pivot table's source data. In some workbooks there can be several Excel tables, and it's not immediately obvious which table was used.
NOTE: For Excel 2013, see: Find the Source Data for Excel 2013 Pivot Table
If you want to recreate the source data, see: Re-create the Source Data
How To Locate the Source Data
To locate the source data, follow these steps:
1. Select any cell in the pivot table.
2. On the Ribbon, under the PivotTable Tools tab, click the Options tab.
3. In the Data group, click the top section of the Change Data Source command.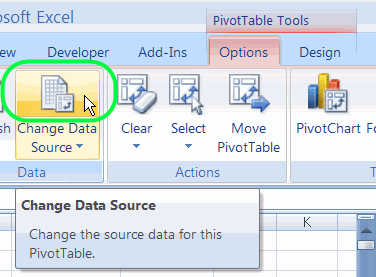 In the Change PivotTable Data Source dialog box, you can see the the source table or range in the Table/Range box. This may be a worksheet reference, such as
or a table name, such as
On the worksheet, behind the dialog box, you can see the source range, surrounded by a moving border.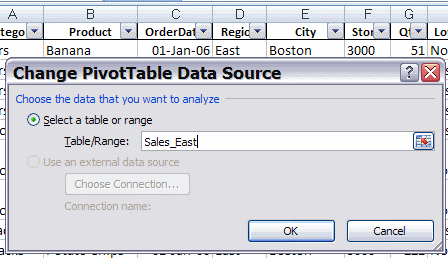 4. Click OK, to close the dialog box.
Unhide a Sheet
Usually the source range will be visible, and surrounded by a moving border. If the source range isn't activated, it may be on a hidden worksheet. You can follow these steps to unhide a sheet:
1. On the Ribbon, click the Home tab
2. In the Cells group, click Format.
2. In the Visibility section, click Hide & Unhide, and then click the Unhide Sheet command.
3. In the list, select the sheet that you want to make visible, and click OK.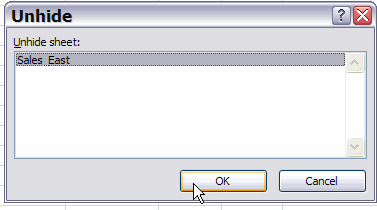 More Articles on Pivot Table Source Data
_________________________